SAu Tech's response to the coronavirus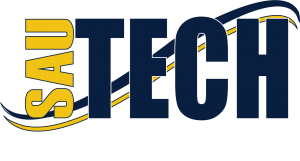 Proactive Measures to Deter the Spread of the Coronavirus - April 29, 2020

Updated as of April 29, 2020-SAU Tech continues to remain vigilant in seeking creative ways to deliver education while protecting our students, faculty, and staff during this trying time.  
SAU Tech continues to use a reduced staffing model with identified staff members working from home and in shifts to ensure that vital services are in place

. We will be following the Governor's recommendations to return to normal business operations with precautions as he implements the State's plan in the coming weeks. 
The College's bookstore (Managed by BBA) is working on refunds for book rentals and can provide labels for returing textbooks. Email sautechbookstore@bbasolutions.com for more information.
 Prospective students, current students, and community members are encouraged to call or email staff members instead of coming to the campus in person. 

The College is utilizing virtual, email, and phone advising and registration for current and summer students. 
STUDENT Updates-ACADEMICS & student services

SAU Tech's Nursing Programs are delaying start dates to August 18, 2020. The testing deadline for nursing entrance exams and applications has been extended to July 1, 2020.  To schedule nursing entrance exams go to www.sautech.edu/testing.
Spring Grading Policy Update for 2020 - The updated policy was distributed to each student's SAU Tech email from Dr. Morrison on April 28, 2020. Please check your email for more information.
Admissions & Advising
Advising will be delivered virtually, by email, or by phone. 
Schedule your session HERE.
Schedule a Virtual Tour

For general admission and advising information email admisofc@sautech.edu
Testing Center
All testing is suspended in the College's Testing Center, with the exception of prospective nursing students and prospective fall students taking the Accuplacer for college entrance. Schedule Your Test
Student Housing
Courtney Haygood, Director
chaygood@sautech.edu
870-574-4458
Financial Aid (FAFSA, Scholarships, Loans, Etc.)
Connie Riley
criley@sautech.edu
870-574-4511
Registrar (Transcripts)
Wayne Banks
wbanks@sautech.edu
870-574-4485
Student Accounts-Business Office
Lisa Holland
lholland@sautech.edu
870-574-4503
---
Information for High School Career Academy, Arkansas Fire Training Academy and Arkansas Environmental Training Academy

Arkansas Fire Training Academy 
Rachel Nix, Director
rnix@sautech.edu
870-574-1521
Arkansas Environmental Training Academy
Randy Harper
rharper@sautech.edu
870-574-4550
Update from Randy Harper on April 23, 2020.
SAU Tech Adult Ed Centers
Barbara Hamilton
bhamilto@sautech.edu
870-837-4001
The Center in Magnolia and Camden are operating with a reduced number of staff members and students are learning online or through packets they can pick-up and drop-off at the Camden or Magnolia sites. 

For general information related to the measures SAU Tech is taking to protect students, staff, and faculty, contact Kimberly Coker at
kcoker@sautech.edu