SAu Tech's response to the coronavirus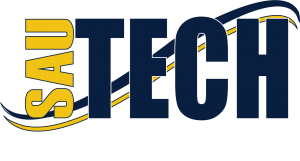 Proactive Measures to Deter the Spread of the Coronavirus - April 2, 2020

Updated as of April 2, 2020-SAU Tech continues to remain vigilant in seeking creative ways to deliver education while protecting our students, faculty, and staff during this trying time.  Clarification: Courses that are now delivered online, will continue online through the end of the spring semester. 
Unless otherwise directed or contacted by SAU Tech Program Faculty, students DO NOT return to regularly scheduled classes on Monday, March 30, 2020.

 

Most students have moved to online courses, and some technical students will work with faculty to complete course requirements to finish the semester. Courses that have been moved online will stay online through the end of the semester.

All second 7-week classes start online on March 30. 

The list of 

online classes

 is updated and includes more courses that are now online. Information for 

non-online classes

 and directions to students in these courses is below under academics.
March 30, 2020-SAU Tech will go to a reduced staffing model with identified staff members working from home and in shifts to ensure that vital services are in place

. Daily health screenings are in place in the Business Building between 7:00 am and 9:00 am for those returning to work for the first-time or who have been to a hotspot area or in contact with someone who lives in a hotspot area.
 Prospective students, current students, and community members are encouraged to call or email staff members instead of coming to the campus in person. 

The College is utilizing virtual, email, and phone advising and registration for current and summer students.  
SAU Tech is postponing its graduation ceremony scheduled for May, 2020. Students who have applied for graduation will receive an email from SAU Tech's Registrar.  
The College will continue in the reduced staffing model until April 13 when we will reassess the situation and make further decisions.
STUDENT Updates-ACADEMICS & student services

Please see the individual program areas below for further guidance.
Program Specific Information and Instructor Contacts:
Eddie Horton- Industrial Technologies 
ehorton@sautech.edu
Students in the courses below are required to pick-up a packet or contact your instructor if you need the packet to be mailed. The table below shows the day and times for pick-up.
| | | | | | | | | | |
| --- | --- | --- | --- | --- | --- | --- | --- | --- | --- |
| COURSE ID | COURSE TITLE | LOCATE | DAYS | STARTS | ENDS | STARTING | ENDING | Instructor's Full Name | Pick-Up Time |
| MD  -2003 01 19/2S | Millwright Level I | MM100 | M W | 09:30AM | 10:45AM | 1/15/2020 | 5/7/2020 | Horton              Douglas       Eddie | 09:00AM or 05:30PM |
| MD  -2003 02 19/2S | Millwright Level I | MM100 | M | 05:30PM | 08:00PM | 1/15/2020 | 5/7/2020 | Horton              Douglas       Eddie | 09:00AM or 05:30PM |
| MD  -2023 01 19/2S | Millwright Level III | MM100 | M W | 02:15PM | 03:30PM | 1/15/2020 | 5/7/2020 | Horton              Douglas       Eddie | 09:00AM or 05:30PM |
| HVAC-2013 01 19/2S | NCCER HVAC Level IV | MB105 | M W | 09:30AM | 10:45AM | 1/15/2020 | 5/7/2020 | Walters             Clarence      Roland | 10:00AM |
| IMEI-2013 01 19/2S | NCCER E&I Level IV | MB105 | M W | 11:00AM | 12:15PM | 1/15/2020 | 5/7/2020 | Walters             Clarence      Roland | 10:00AM |
Welding Academy of South Arkansas
Contact-Casey Burns
cburns@sautech.edu
870-331-1370
The Academy's April 4 test date is confirmed. We will be testing. The Welding Competition is canceled for April 18, 2020.
Students will work with Casey Burns to determine skill level and training to complete the program. Your instructor will be contacting you. 
Aviation Maintenance Program
Contact– Katherine Beckham
kbeckham@sautech.edu
870-818-9014
Katherine Beckham will be contacting students in the Aviation Maintenance program with further instructions on FAA requirements and program options. 
Cosmetology Program 
Contact– Shelley Young
syoung@sautech.edu
870-313-1370
Shelley Young will be contacting Cosmetology students on program requirements and options to meet state requirements.
Admissions & Advising
Advising will be delivered virtually, by email, or by phone. 
Schedule your session HERE.
Schedule a Virtual Tour

For general admission and advising information email admisofc@sautech.edu
Testing Center
All testing is suspended in the College's Testing Center, with the exception of prospective nursing students and prospective fall students taking the Accuplacer for college entrance. Schedule Your Test
Student Housing
Courtney Haygood, Director
chaygood@sautech.edu
870-574-4458
Financial Aid (FAFSA, Scholarships, Loans, Etc.)
Connie Riley
criley@sautech.edu
870-574-4511
Registrar (Transcripts)
Wayne Banks
wbanks@sautech.edu
870-574-4485
Student Accounts-Business Office
Lisa Holland
lholland@sautech.edu
870-574-4503
---
Information for High School Career Academy, Arkansas Fire Training Academy and Arkansas Environmental Training Academy

Career Academy
Dr. Juanita Mitchell
jmitchel@sautech.edu
870-574-4423
The Career Academy is following the schedule of our local public schools.
Arkansas Fire Training Academy 
Rachel Nix, Director
rnix@sautech.edu
870-574-1521
The AFTA is communicating directly with the fire service during this time. 


Arkansas Environmental Training Academy
Randy Harper
rharper@sautech.edu
870-574-4550
The AETA is delivering all coursework online until April 30, 2020. 
SAU Tech Adult Ed Centers
Barbara Hamilton
bhamilto@sautech.edu
870-837-4001
The Center in Magnolia and Camden are operating with a reduced number of staff members and students are doing online learning until April 10. Updates will be available at that time.

For general information related to the measures SAU Tech is taking to protect students, staff, and faculty, contact Kimberly Coker at
kcoker@sautech.edu