The SAU Tech Adult Education Center serves Calhoun, Columbia, Dallas and Ouachita Counties. We believe that education is a lifelong process and does not end when you leave public school. Adult education serves adult learners through adult basic education classes, which are designed for adults who function up to the 7.0 grade level on the TABE. General adult education classes prepare adults who score at the 7 to 12 grade level on the TABE.
Our Adult Education Services:
Basic Skill Improvement
GED Preparation & Testing
College Prep Classes
English as a Second Language
Employability and Workplace Training
Alternative Sentencing Program
Adult Education Locations
Like us on Facebook at Southern Arkansas University Tech Adult Education and find out about all the latest news and classes we have scheduled for YOU!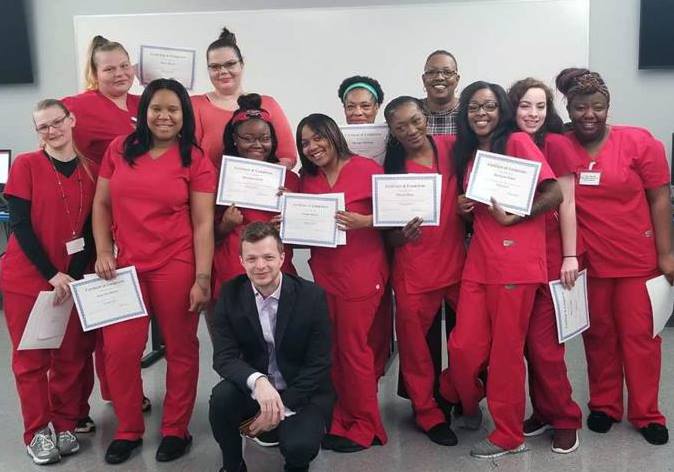 GED® Program In Arkansas, anyone who is 16 years or older, who are not enrolled or graduated from high school, and who meets the state requirements can earn an Arkansas High School Diploma by passing the official GED® test. The GED® test is computer based and measures skills in four areas: Reasoning through Language Arts, Mathematical Reasoning, Social Studies, and Science. Instruction for this class is based on the student's entry level and their needs. The format for classes are Managed Enrolled and Open Entry/ Open Exit. We offer Fast Track versions of this class and are proud to say that our success rate is high for students wishing to enroll in this program. Our students graduate with SAU Tech each year in May and have a great graduation ceremony. Fast Track GED® Classes Our Fast Track GED classes are Managed Enrolled courses where students register and have start and end dates with a schedule to follow. This format offers group and individual instruction as well as an opportunity for Distance Learning. These classes work best for people who can commit to a schedule for a short period of time and are looking for success. Our Fast Track classes are scheduled to begin throughout the year and are designed for students to complete one or multiple GED® areas.
---
Job Readiness Services
Career Pathways (Job Readiness)
Our program offers free Career Pathways options for students under Federal WIOA guidelines. We help students map out their interests and the steps they need to take in order to get to their goals. Many times we are a step along their path and we currently have 2 established certificate programs for Career Pathways, WAGE™ and CRC. These programs provide training to enable adult learners to become better informed and gain skills for the changing world of work. Both programs are free to Arkansas students who wish to enroll.
WAGE™ - WAGE™ is a work readiness program that is driven by local and state business and industry. It is designed to help unemployed and underemployed Arkansans gain necessary skills to improve successfulness in the workplace. Our program offers classes in Magnolia and Camden with content covering basic academic skill remediation (if necessary), digital literacy, financial literacy, employability skills, spatial relations testing, hands on workplace skills, and much more. There are six options for certificates and they are considered "stackable": Industrial, Employability, Office Technology, Customer Service 1 and 2, and Bank Teller. Upon completion, students receive one or multiple certificates issued from the State of Arkansas. Several area employers require or prefer certificates for employment.
CRC- the CRC program provides basic skills and workplace skills remediation/ instruction to help students prepare for the Career Readiness Certificate test. This certificate is based upon WorkKeys® assessments that test in areas of Reading for Information, Applied Mathematics, and Locating Information. Upon successful completion, students receive a Bronze, Silver, Gold, or Platinum certificate. Several area employers require this certificate for employment.
Mission: To provide adult learners with the mechanisms to improve and refine their academic skills, attain the General Education Development diploma, and the life skills that prepare the citizen for self- sufficiency and improvement in the quality of life.
Vision: SAU Tech Adult Education Centers endeavor to provide the highest quality adult education and literacy program to encourage learners to engage in a lifetime of inquiry and learning.
Adult Education Philosophy
All adults can learn.
All adults have the right to education that enhances their ability to effect positive change in their lives.
All adults have the right to obtain the life skills that they need to become self-sufficient, actively participating members of society.
All adults have the right to complete their education through the high school level.
Full-Time Staff, Teachers, Paraprofessionals, & Training Coordinators
Barbara Hamilton, Director
Markita Wilkins, Administrative Specialist
Mary Beth Collard, Instructor for Ouachita County
April Lewis, Academic Lab Assistant for Ouachita County
Kathy Wright, Teacher for Columbia County
Brandi Ricks, Teacher for Columbia County
Shundrea Walker, Administrative Specialist for Columbia County
Andrea Carter, Employment & Training Coordinator
Denise Johnson, Lead Teacher/Coordinator
Part-Time Teachers:
Rachelle Kelley
Jennifer Reeder
Susan Dailey
Jessica Samples
Barbara Moore
Becky Belvin
Part-Time Paraprofessionals:
Karla Hendrick
Versie Burton