Welcome to the Southern Arkansas University Tech Foundation and Alumni Association. We are excited that you are interested in finding out more about how you can support the students and programs at SAU Tech. Our Alumni Association is also available to graduates of SAU Tech as a way to join a group of supporters of the College. Check out more about the Association on the Alumni Association page.
The SAU Tech Foundation currently has scholarships established for SAU Tech students. We welcome you to add yours to the list! Check out our new donor guide see all the latest projects and events at the College. Give while you shop through Amazon's Smile program. At no cost to you, Amazon donates to the SAU Tech Foundation every time you shop using the amazon.smile.com link. You can now choose the Southern Arkansas University Tech Foundation as the charity of your choice on your Amazon phone app as well.
Since 1970, the Southern Arkansas University Tech Foundation has awarded scholarships, provided professional development funds for SAU Tech staff members, helped the College purchase land for a walking trail, purchased training simulators for the College's industrial programs, and leased housing to the College for student use. The Foundation also built new student apartments and raised funds to build a housing day room for students.
The mission of Southern Arkansas University Tech Foundation
is to support SAU Tech's students and programs.
Jason and Stephanie Morrison donate megaphones and pom poms for the Rocket Cheer Squad.
SAU Tech operates a food pantry for needy students. Below is a list of organizations and churches that support the pantry!
Thornton United Methodist Church
True Word South Ministries
Zion Hill Youth Ministries
St. Paul Baptist Church
Frank
New Mt. Hebron Missionary Baptist Church
New Haven Baptist Church
Set Free Christian Ministries
Mt. Zinia Baptist Church
Mr. Jim Golden
Masonic Lodge
First United Methodist Church
SAU Tech Employees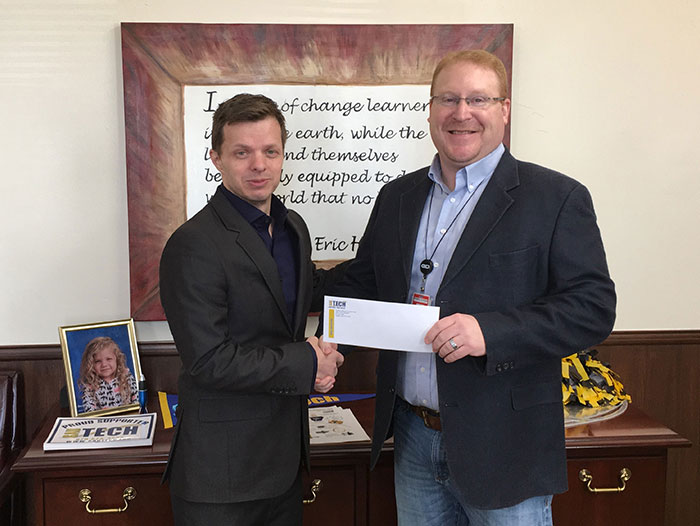 Erik Perrin with General Dynamics donates funds to the SAU Tech Foundation for scholarships.
Foundation Board of Directors
Paul Lindsey
Gene Hill
Jim Golden
Tessa Wilson
Mark Cayce
Ted Barnes
Linda Gaston

Delois Kitchens
David Reynolds
John Dawson, III
Troy Alphin
Krissy Bassetti
Barbara Finley
Phil Foster
Share Our News and Events!